Divorce 101 Provides New York City Residents a Unique Opportunity to Complete Your Divorce in a Sane, Rational and Less Costly Way…. Through Mediation.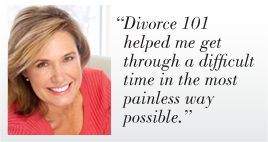 Do you want your divorce to be fair, be completed as quickly as possible, and be more affordable than the traditional divorce process?
Then Divorce101 can help with its Divorce Mediation Services.
We all know that many divorces take years to finalize, cost tens of thousands of dollars, and leave both partners feeling emotionally exhausted and financially depleted.
The end result can be devastating, with both partners feeling betrayed, angry and powerless. Sadly, the children are often the ones most adversely affected by the acrimonious nature of divorce litigation.  We understand the stress, bitterness, sadness and anger that often accompanies a divorce because we've seen what the traditional divorce can do countless times.
Divorce Mediation can eliminate many of the negative aspects of divorce. Our mediators are highly experienced attorneys that focus exclusively on Divorce and Family Law and are skilled in conflict resolution. Just as important, if the need arises, we can bring in experts like accountants or financial specialists. And if your children are struggling with the impending divorce, access to child specialists can be quickly arranged.
At Divorce 101 we believe there is a better way.
There are many benefits to divorce mediation, including:
Mediation is typically quicker than litigation.
Mediation can cost less than litigation.
Mediation can be more streamlined a process than litigation.
Mediation can be less acrimonious than litigation.
Mediation can help you get on with your life faster than drawn out litigation.
Mediation can have less of an adverse impact on children than contentious litigation.
Children are often placed in the middle during a bitter divorce. Mediation can help diffuse anger and lead to a more amicable settlement that's better for the kids.
Mediation can focus on and resolve key areas of dispute faster than a long litigation process.
Mediation can save real money often spent on lawyers and court fees.
Mediation can be scheduled at your convenience so there's no long delays waiting for court dates.
One mediator focused on resolving issues can be more effective than adverse litigation.
Getting all parties at a table eliminates the costly and time consuming process of letter writing, motions and court dates.
After a litigious divorce parties often find they've spent most of their assets on legal fees, sometimes even having to sell the house to pay for the costs of divorce. With mediation you control the costs.
In a litigious divorce parties can find that the assets they were fighting over go to pay their attorneys. Mediation at Divorce 101 is typically less expensive than litigation.
A divorce through the court system can take years, but you can speed up the process by opting for mediation.
The court system can make decisions that seem unfair or arbitrary, with mediation you control the outcome.
Don't leave your fate in the hands of a clogged and over overwhelmed court system, mediation gives you more control to shape your future.
Call us at 212-346-7717 find out more about divorce through mediation at Divorce 101.
Call 212 346 7717 to schedule a consultation today!
Copyright © Divorce 101 - Site Design by Lawyer Web Design